When did you last have your health checkup?
Even supposing that you're a fit person, a regular health checkup routine is a good practice.
Now, the same thing could be said about the health of your website SEO?
When did you last have a website SEO audit? Whether your website is SEO optimized or not is revealed in an SEO audit report.
If your answer is years back or " I don't exactly remember," there's no need to feel left out.
Search Engine Optimization is not an easy cake, and it is in a consistent phase of changes; that's what makes it difficult to stay up to date with the algorithm changes and Google preferences.
So should we assume that keeping up with the website SEO is impossible?
Not necessarily.
Luckily for you, we have the best free website SEO audit tool for your SEO site check-up.
Continue reading.
Why Do You Need to Check if Your Website is SEO Optimized?
Website SEO check gives you a quick insight into your search engine activity.
Website SEO audit measures where you stand in the way of your online goals and competitors and provides you with an idea about whether your current online strategy is working out or not.
Getting a website audit gives you a picture of whether your website is SEO optimized and picks the areas of improvement that can boost your search engine traffic and online authority.
Since search engines like Google can be the largest source of your website traffic and engagement, which means a better chance with your customers, an SEO audit can be very helpful to your business website.
Checking your website's SEO performance is not just a double-check of your time and money investment; it's about more.
Look at some of the benefits of the site SEO check.
You can check if your website content is well on to hit the goals with our free website SEO audit tool.
With timely SEO checks, you can prevent Google penalties by making changes.
SEO content audit will help you determine the relevance of your keywords and areas where you need to tweak your content.
Newer avenues to build your SEO strategy and accomplish your SEO goals.
Here's your free website SEO audit tool.
Check what your SEO score says?
Full Website Audit: 5 Areas of SEO You Need to Get Right
1. Analyze your site loading speed
Site speed not only improves your website search rankings but also decides whether visitors are going to stay on your site or not.
If a site's loading speed is more than 3 seconds, Google is not going to prioritize it over the higher quality ones.
A fast-loading website is important for you and your customers because it is part of the user experience. Fast loading sites retain the users while they'll not shy away from clicking back if a site responds slowly.
Improving the loading speed of a site also cuts down the operation cost.
Just pop in your website's URL into this completely free website SEO audit tool, and you can check your site's loading time. Check now!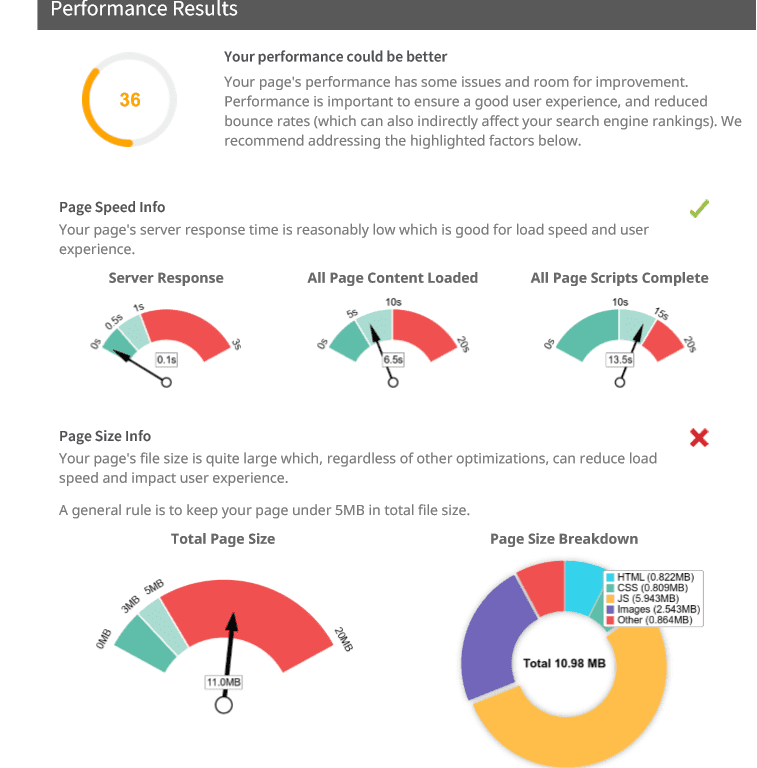 Site speed needs to be paid attention to in your website SEO audit because chances are your site is taking more time to load.
Tweaking your site speed for quick loading is important because constantly uploading files and images to your servers slows the website's loading speed over time.
2. On-page SEO
On-page SEO involves optimizing metadata, HTML of a page, internal links, and the use of the right visuals-rich content.
Added altogether, on-page SEO leaves you with a good functioning webpage that might look like this.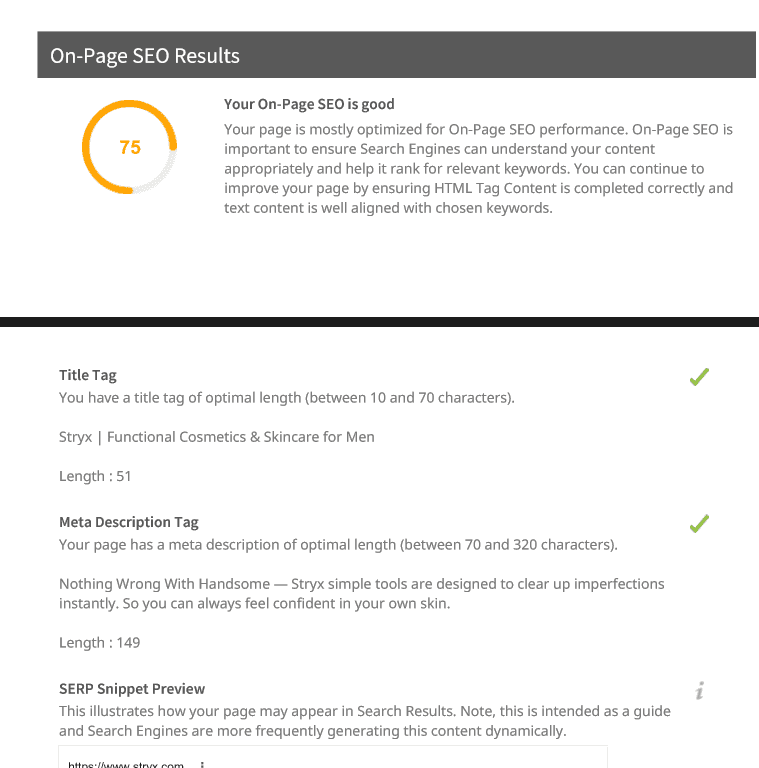 On-page SEO relies both on the content of the page and also on the structuring of the elements. Here are the things that can affect your website SEO- meta data( meta tags, description, and keywords usage), HTML code, JavaScript, CSS, and more.
Remember that these details are called 'content' even though popular references call the main text on the page content.
On-page SEO directly affects your website ranking as this is one of the crucial areas for search engines, and this is why marketers consider this as part extremely important. It establishes the relevancy of the keywords used to a search term, and more the relevancy more likely you will rank on the top of search results for that query.
With constant algorithm updates at Google, your website needs to deliver results that better reflect a searcher's intent.
Whether you have a small business or a big one, improving your on-page is a must, but the first step is to check the areas where the site has been performing and where it has been lacking.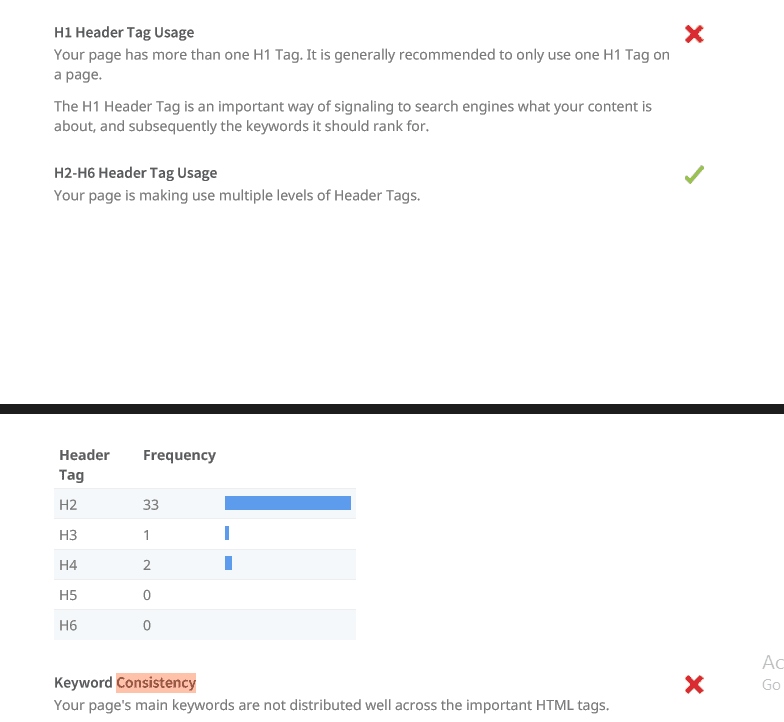 3. Mobile SEO
As most people use mobile phones to conduct regular searches, hearing 'mobile-first index' to focus on mobile websites is not surprising at all.
While mobile-first is significant, it doesn't mean that desktop sites will be excluded. Designs will, however, favor mobile systems- Android or iPhone, and this is why content has to be optimized for the same.
You might think that web designers will no longer have beautiful canvases and they will be replaced by an increase in the number of visitors; it is essential to get your mobile SEO done right.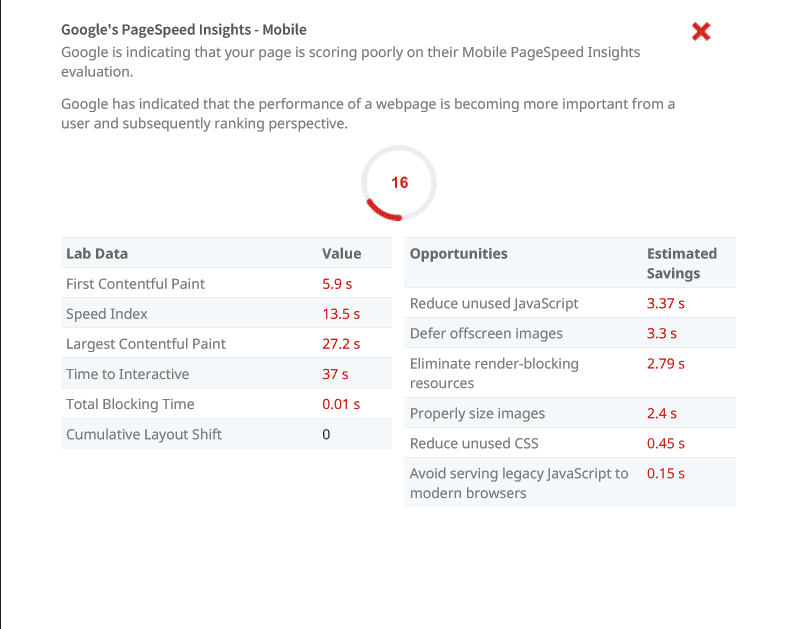 As we have seen the changes with the normal index, we can be sure of seeing algorithm updates in Google's mobile index as well.
Adopting the practice of mobile-friendly and highly responsive designs is the way forward for all sites. It will provide every version of your site a fair opportunity for indexing and be in the competition in the mobile-first index.
Core Web Vitals
While it might sound new to pay a closer look at your Core Web Vitals in your website SEO audit report, sooner it will be in the air for all marketers.
Core Web Vitals are the page speed update launched by Google.
Let's get clear about what core web vitals are about.
Understand them as a set of speed measures formulated to enhance the performance of the pages, and they include:
LCP– It refers to Largest Contentful Paint, and this metric tells the loading performance of a site.
FID– First Input Delay considers the interactivity of a page.
CLS– Cumulative Layout Shift checks the visual stability of the webpage.
These metrics are considered by Google's algorithms as a ranking factor. In the search engine's updates, these metrics will be the frontrunners. Page of speed is now an integrated point of optimization rather than being just a lighter metric.
Have a look.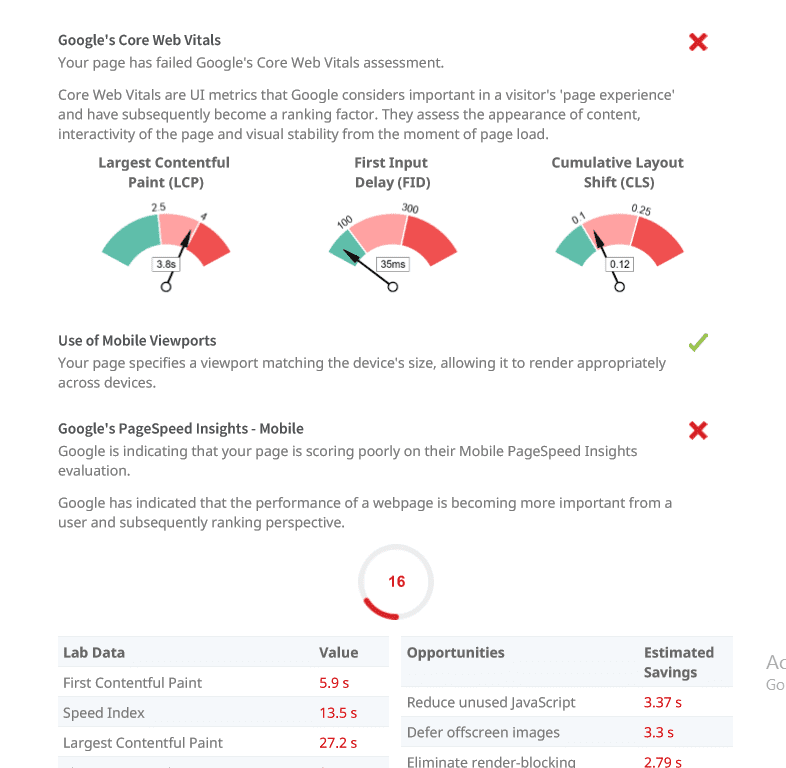 4. Backlinking
Backlinks are inbound links from another website, and they serve as a 'vote of confidence for your website.
Backlinks hold value to Google as they signal that another website finds the content on your website important enough to mention it through links in their own content.
For example, if a window installation company(Website A) refers to a window manufacturer( Website B) comparing the best type of windows available, the window manufacturing company receives a vote of confidence or backlink from website A, e.g., the window installation company.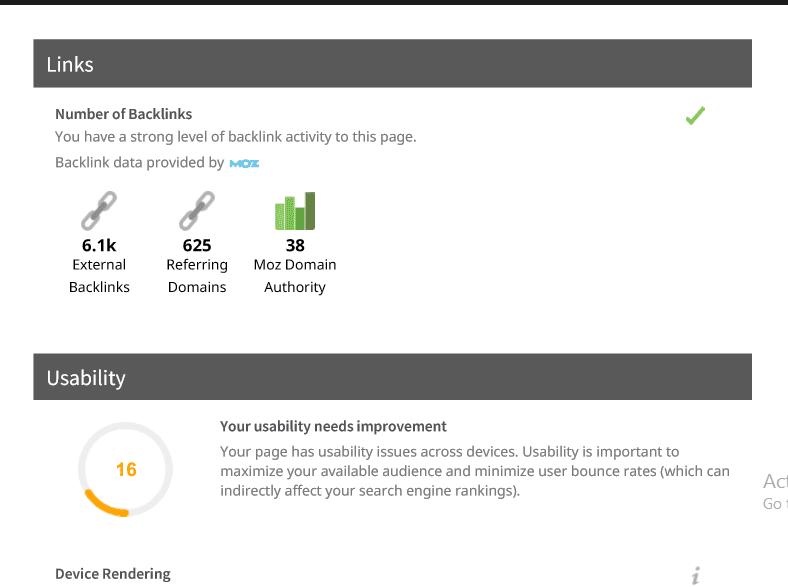 More backlinks to your website mean that Google will interpret your resources as valuable enough that they are being cited on other websites, and for that, your website will rank higher on the SERPs.
Gaining inbound links or backlinks is a crucial part of your overall website strategy.
Creating high-quality content consistently increases your chances of getting natural backlinks.
However, you can also go for guest blogging on another website, and don't forget to link to your website in the content.
5. Website content audit
Content continues to rule the website SEO by which you can acquire links and drive huge traffic to your website.
Content gives value to your customers because it solves a problem or at least helps them find a way for it. Proper keyword usage and content structure ensure that the website will rank only higher. However, content needs to be executed right; otherwise, it can also bring penalties only to hamper your chances of being found out by your customers online.
Good content connects with the people and speaks their language. That is how viral content works- as many numbers of people are able to identify it as some solution to one of their problems or challenges. When your content resonates with your audience, it increases the chances that they are going to buy from you.
Moreover, creating good content means references in other websites and social media shares that will help you gain natural links as a part of your backlinking strategy. Keywords spread over all the necessary areas in your content, whether it is the metadata and HTML or the main text, boosts your rank on the SERPs.
Creating the right content with your audience at the center makes many things about SEO fall in their place.
Finally, Let's Check How Your Website is Doing!
Take action- that's where you begin.
Checking your website health is not the final dose to boost your website SEO, but it is the foremost. We have covered all the major areas to check whether your website is SEO optimized. However, that's not all.
You may also want to check what our experts have to suggest personally to boost your website SEO. But it starts with a simple copy and paste.
Just paste your website URL, and let's see what our free website SEO audit report has got for you!